2011 Business Achievement Award Winners
Lifetime Achievement Award
Mr. John Yamamoto PEMCO Founder, Chairman and CEO
Website: pemco-limited.com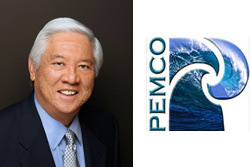 PEMCO, which stands for the Pacific Engineering Management Company has successfully completed projects including numerous multi-year Federal contracts. Twenty six years ago, the company started as a small, family owned business offering Real Estate Management, Development & Construction service to both the public and private sector and today has expanded its services throughout the Pacific, Far East to Mainland USA. In 2000, Ernst & Young awarded Mr. Yamamoto as "Entrepreneur of the Year." PEMCO has also been recognized by the U.S. Small Business Administration as its "Entrepreneurial Success of the Year Award" for the County of Honolulu, Hawaii; the "Fastest 50 Growing Asian American Businesses" in New York by the U.S. Pan Asian American Chamber of Commerce Education Foundation; among many other awards.
Young Professional of the Year Award
David Chang Chairman and CEO, Chang Holding Company
Website: changholding.com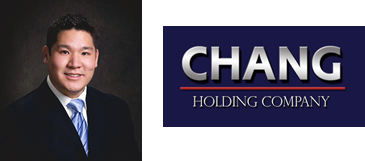 David Chang is Chairman and CEO of Chang Holding Company and holds quite an impressive background. He obtained his college degree in Economics and Computer Science from the United States Military Academy at West Point; he was selected as an East-West Graduate Degree Fellow and holds his M.A. in Political Science from University of Hawaii; he also holds a Masters in Theological Studies from Covenant Theological Seminary; other educational honors include a Certificate in Financial Planning from Boston University and a Certificate of Leadership from the East-West Center. David is an Iraq combat war veteran and currently serves as Commander of the Military Intelligence Company, Hawaii Army National Guard.
In the time he has been in business, David has launched three companies as well as Chang Holding Company. He started his WealthBridge wealth-management firm two-and-a-half years ago after leaving active duty with the Army. He founded two more startups last year after looking around and seeing opportunity in working with the military — a construction and remodeling firm called The Stone Factory and a bottled-water company called Power H2O.
David is also involved in community service and is a member of the Chinese Chamber of Commerce, Lions Club, Rotary Club, Honolulu Chamber of Commerce, and Toastmasters.
Business Executive of the Year Award
Dustin Sellers Co-Founder and President of Business Development & Marketing, ProService Hawaii
Website: proservice.com/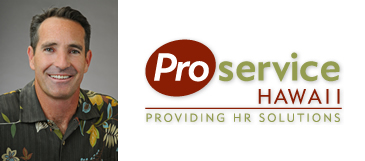 In just the past few years, Dustin Sellers and his team have turned ProService Hawaii into the state's largest and most respected HR administration firm.
Dustin and his team thrive on empowering small business owners: companies as diverse as landscaper KN Lawn, to tutoring company It's All About Kids to celebrated restaurant Morimoto's, which relied on ProService to get its HR-related operations up and running to international standards.
The numbers prove it. Founded in Kona in 1994, ProService Hawaii had some 40 employees and 400 client businesses when Dustin and Ben bought the company in 2005. Today, ProService has over 120 employees, serves more than 1,100 client companies and represents 12,000 employees statewide.
Revenues have grown steadily each year, from $141 million in 2005, to $299.2 million in 2009—a more than 100 percent increase.
At a time when many companies were consolidating brick-and-mortar presence, Dustin realized that a physical presence in the form of fully staffed offices on all major islands would bring hands-on service directly to client businesses. Already established on Oahu, Maui and in Kona, ProService added offices on Kauai and in Hilo in 2006. The company remains the only HR administration firm in Hawaii with a physical presence on all four major Hawaiian Islands.
Dustin knows that doing good for others is one of the best ways to improve yourself. Therefore he has made community service part of the corporate culture at ProService, from the top down. He serves as chairman of the board of Big Brothers Big Sisters; is on the corporate council of The Nature Conservancy of Hawaii and the board of the Honolulu Bulls soccer organization.
Commitment to Green Award
Bossert Builders, Inc.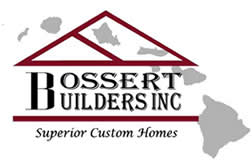 Bossert Builders, Inc. is Oahu's finest custom home contracting company that has been committed to green building since opening in 2008. Nick Bossert, who serves as the general contractor, and Leanne Bossert, as President, are the perfect husband and wife team who have not only committed their own lifestyles to "going green," but their business as well.
In January of this year, Bossert Builders hosted a green home open house for approximately 500 people in Kailua that benefited the Honolulu Habitat for Humanity at which they showcased their latest project — state of Hawaii's first Certified Green Home under the National Association of Home Builders' National Green Building Standard Program.
Corporate Social Responsibility Award
Prudential Locations Foundation
Website:  prudentiallocations.com

As Hawaii's largest, locally owned residential real estate firm, Prudential Locations has been dedicated to serving its clients and the community since 1969. Most notably, it has made a tremendous philanthropic impact in the state of Hawaii through its charitable arm, The Locations Foundation.
Celebrating more than 20 years since its inception, the company's not-for-profit organization, The Locations Foundation, is deeply committed to enhancing the lives of disadvantaged Hawaii families and children by supporting a wide range of community programs through volunteering time and donating money. All members of The Locations Foundation are all real estate agents and staff of Prudential Locations.
Because the organization is not exclusive to helping a single cause, The Locations Foundation partners with a diverse range of local Hawaii charities, such as: Boys & Girls Club, Big Brothers – Big Sisters, Hawaii 3R's, Project Visitation and Easter Seals, just to name a few – all with the mission of helping families and children in our community.
In 2010, The Locations Foundation gave more than $100,000 to 20 community organizations in need, using funds donated by the real estate professionals and staff members at Prudential Locations. In addition, The Foundation provided more than 850 volunteer hours for important social causes in 2010.
Best Social Media Campaign Award
Hawaiian Airlines
Website:  hawaiianairlines.com

Hawaiian Airlines takes a holistic approach to social media – one that combines the efforts of its marketing, corporate communications, and consumer affair divisions to provide a cohesive, responsive, and effective communication channel for our customers.
Hawaiian Airlines utilizes Facebook, Twitter, YouTube and Flickr to engage with its customers and listen to what members of the social media community has to say about its brand. Comments, Tweets, and discussion board posts, questions and/or complaints are monitored on a daily basis.
Engagement occurs through social media sites with fare promotions targeting Fans and Followers, live Tweeting during company events, and Tweet-ups during sponsored events. Hawaiian Airlines is increasingly using Social Media to push out new campaigns. One of the most effective examples of how Hawaiian Airlines engaged customers is their Inaugural Airbus Sweepstakes.
This sweepstakes was created with Social Media in mind and highlighted the celebration of Hawaiian Airlines' two new Airbus A330-200 airplanes that were added to its fleet. This campaign took place from May 12, 2010 through May 26, 2010. At the end of the sweepstakes, two winners (a resident of the US Mainland and a resident of Hawaii) were randomly chosen and given one roundtrip coach ticket for two along with a three-night stay at JW Marriott.
Best Family-Run Business Award
Scott Hawaii
Website:  scotthawaii.com

Scott Hawaii had its start in 1932 after founders Elmer and Jean Scott moved from Marblehead, MA. to the Territory of Hawaii. Coming from a lineage of shoemakers, it didn't take them long to establish a reputation within their new community as manufacturers of quality footwear. Their specialty was plantation boots for the sugarcane and pineapple field workers who were so prevalent back in the day. With the introduction of World War II, materials came in short supply and businesses servicing the United States military were given priority. To meet these new conditions, Scott Hawaii changed direction and began focusing on casual footwear, which it sold to the military exchanges. The "slipper" was born.
Steve Scott, CEO and son of Elmer and Jean, spent his summers as a kid working in the factory; it was not until he graduated college that he began working full-time. Steve learned the ins and outs of slipper construction from Elmer.
Michael, President and son of Steve and Jackie Scott, is third generation; he has fond memories of hanging out at the factory as a child and spending time with the employees. During high school he spent his summers in the factory, where he worked on making boogie boards and the employees showed him the ins and outs of production. Michael graduated from University of Oregon, after which he knew he would work in the family business.
Kaione Scott, Vice President and son of Steve and Jackie as well, also works at Scott Hawaii. He too has fond memories of when he was a child hanging out at the factory causing trouble. During high school he worked summers in slipper production. After graduating from UCLA Kaione always knew he would work for the family business, he believes in the business ideals and has pride in the Scott Hawaii story.
Currently Scott Hawaii has 11 employees, of which one of them has been working for 30 plus years. Steve's wife Jackie also works part time in the office. The foundation of Scott Hawaii is based on attention to detail, the importance of excellent customer relations, and sharing the Aloha spirit. It is evident that these three generations share the same sense of pride in their accomplishments and although over the years Scott Hawaii has evolved with the changing times the foundation has remained the same.
Best New Business Award
RevoluSun
Website:  www.revolusun.com

RevoluSun is Hawaii's fastest-growing provider of residential solar solutions. This rapid growth has been fueled by an unmatched customer experience, from a creative marketing strategy to generate awareness and positive brand recognition to a commitment to customer satisfaction that creates "RevoluSunaries," not just customers.
In February 2011, RevoluSun expanded its service to Maui and Hawaii Island, bringing its high-quality, affordable products and experienced professionals to neighbor island residents.
Most recently, RevoluSun announced plans to franchise its operations on the Mainland, becoming the first photovoltaic company in Hawaii to do so. It hopes to sell 25 franchises by the end of 2012 and another 100 in 2013.
Customer service at RevoluSun is unmatched by any other company. Customer satisfaction, comfort, schedule and needs are put above all else. In 2011, RevoluSun became the first solar firm in the city of Honolulu to be accredited as a SunPower Elite Dealer by SunPower Corp. Only a handful of firms nationwide have achieved this status. Earning the Elite Dealer title means RevoluSun consistently exceeds SunPower's standards, including a customer satisfaction score of 94 percent on solar installations and successful completion of two advanced certification courses in topics such as the installation and design of SunPower products.
2013 Business Achievement Award Winners
2015 Business Achievement Awards