Sound of Success: Catching up with Best Family-Run Business 2013 Kamaka Ukulele
From the founder's apprenticeship with Manuel Nunes, the Portuguese man who first introduced the ukulele to the islands, to creating "The Jake" ukulele model for virtuoso Jake Shimabukuro, Kamaka Hawaii has been at the forefront of the ukulele's presence in the world. We caught up with Fred Kamaka Jr. and Chris Kamaka to discuss their business and legacy.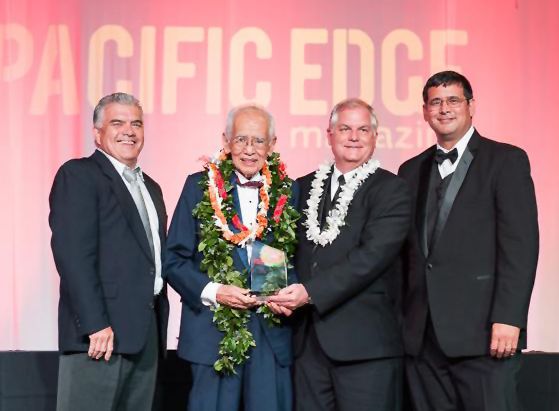 1. Congratulations on receiving the 2013 Pacific Edge Best Family-Run Business Award. In what ways has this Business Achievement Award impacted your business?
Fred : Winning the 2013 Pacific Edge Best Family-Run Business Award was an honor and brought us a greater awareness of our market potential and the need to continually move forward.
Chris: The award was humbling and we were honored to receive it. I'm sure it gave notice to those who didn't know of us previously, or didn't know that we're 100% family-owned, with three generations now working in the company.
2. Since receiving the award, what are some new initiatives your business is undertaking?
Fred Jr.: We have increased our market both nationally and internationally. We have produced a new line of models and introduced a new set of keys. We are also preparing for our 100th anniversary celebration.
3. What is the best part of your job? What drives you to "do what you do"?
Fred Jr.: The best part of our job is knowing that we are continuing our grandfather's legacy and traditions. We are driven to produce the best ukuleles in the world, which means we need to constantly improve our instruments because the world is racing to catch up.
Chris: The best part of my job, as Production Manager, is to make sure we are creating and producing the best product we can with the great craftsmen we have. My family drives me as well as the desire to maintain our standards.
4. How has continuing to be a family-run business contributed to your success?
Fred Jr.: It sets us apart from the rest of the market. We are the last of the original Hawaiian ukulele makers from the early 1900's.
Chris: It's not easy, but to learn to work together is critical. Communication is key. My sons have shown great interest and the desire to hand things over to them one day drives me to make things right!
5. What would you consider your greatest accomplishment to date with Kamaka Ukulele?
Fred Jr.: Our greatest accomplishments to date would be modernizing our processes both in production and administration and switching to Lean Manufacturing.
Chris: Just being able to improve and maintain our legacy is cool. Many look to us as the model and its truly humbling to be successful. I thank our employees and hope to improve things as we progress.
6. What are some challenges to building a thriving business in the islands? Do you have any solutions and/or advice for new, local business owners?
Fred Jr.: Some of our challenges include location, space, and distance from our suppliers. Our best advice to new, local business owners is to never forget that your employees are the key to your success. Take card of them as you would your family. Nurture their growth and development. Cultivate a sense of pride in their skill and craftsmanship.
Chris: Good employees with good work ethics as well as good management can go a long way.